Metal Building Roof Retrofit System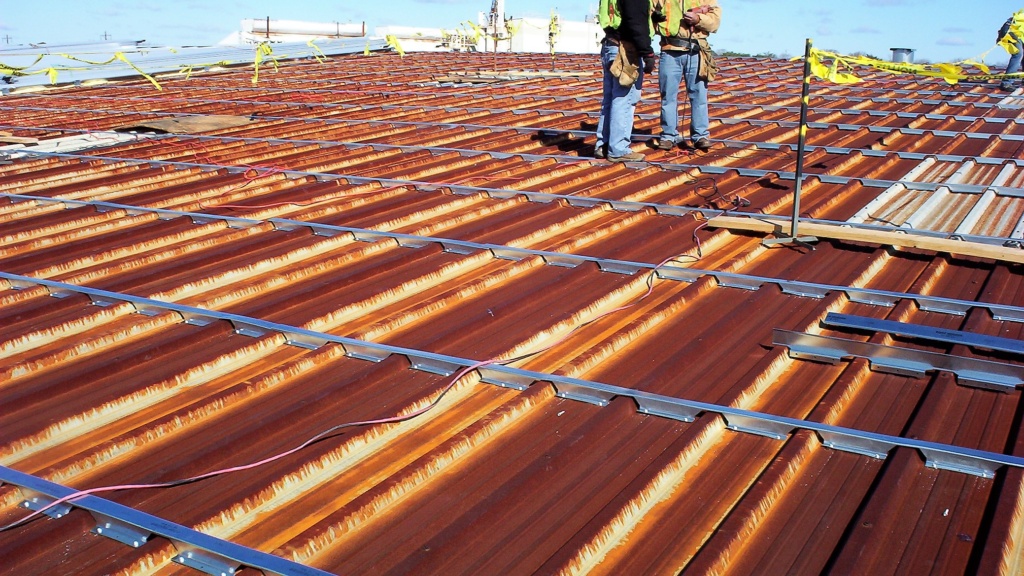 The Metal Building Roof Retrofit System installed exclusively by Inco Steel Buildings is a revolutionary approach to roofing red iron steel buildings. This patented system for replacing metal building roofs is approved for use by the North Carolina building code.  Its cost-effective and it save you time, money and is enviro friendly.
The retrofit roof system is identical to the original metal panel roof. 
With this system, you will receive a brand new roof, trim, gutters, and downspouts and roof venting system. For a more energy-efficient metal building, fiberglass or foam insulation can be easily added during the roof retrofit process.
This system will eliminate roof leaks, downtime and eliminate expensive roofing waste typically associated with roof system replacement.
Consulting engineers working with the manufacturer originally designed the system components to be installed over an existing metal building roof.  The old roof will not be removed, and the old roof will not support the new roof. This old roof will remain in place and provide structural rigidity to the building.
The system is installed over top of the original structural members called perlins. Perlins are sub structural components in the metal building roof system and perlins attach to and bear upon the rafters, Rafters are structural components attached to the metal building columns.
The columns, rafters and perlins form a structural unit that supports the roof surface of roll-formed metal panels of 26 gauge or greater thickness.
NOTE: – NO single ply membranes are installed including TPO (thermoplastic polyolefin) membrane. Membranes are NOT used with this system.
The Metal Roof Retrofit Systems is designed for red iron metal building roof replacement and is the only system we use or approve of. 
NOTE: This system cannot be installed on tube frame buildings. This system cannot be installed on a flat roof.
NOTICE: Neither Inco Steel Buildings nor its subsidiaries are licensed engineers or  engineering firms. The information on this website is not engineering design, nor data provided by registered licensed engineers.
NOTE: A licensed structural engineer familiar with metal building systems should be consulted if your metal building roof requires engineering, or if you have structural questions related to roof loads, or roof problems.
Inco Mission: Build Good Buildings with Good People for a
Fair Price™