The Inco Metal Building Insulation Retrofit System
We can transform your building's interior back into a clean, bright, safe, and healthy space with our Inco Insulation Retrofit System.
Roof and wall insulation are completely replaced.
The roof and walls need to be removed of all insulation, although certain conditions may allow it to be left in place and the system installed over the old insulation. Retrofitted roof and walls are brand new with new insulation and a white or black lining that covers and protects the upgraded system.
Install the Inco Insulation Retrofit System in your building to keep it cool in summer, block cold in winter, and keep it dry all year long. By installing high R value insulation, sealing foams, and insulating gaskets, we will eliminate heat, cold, and condensation problems. Upgraded R-19 to 25C insulation is installed in ceilings and walls, which is covered with white reinforced liner and white steel bands for retention.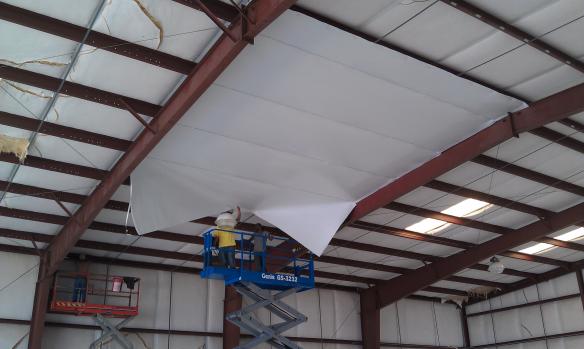 The Minimum Fee for Repairing Metal Buildings
A minimum fee of $1500 will be charged by Inco for the repair of a metal building, on top of the materials and equipment fees, overhead fee, and $150 for the trip charge.
Inco Metal Building Repair Systems
Inco Steel Buildings Inc offers expert metal building repair, restoration, refurbishment, conversion, and renovation services. Our services include repairing metal building insulation, installing retrofit insulation systems, installing retrofit roof systems, converting metal buildings, refurbishing metal buildings, and painting metal building exteriors.
Metal Building Repair Menu