Metal Building Insulation Repairs & Replacement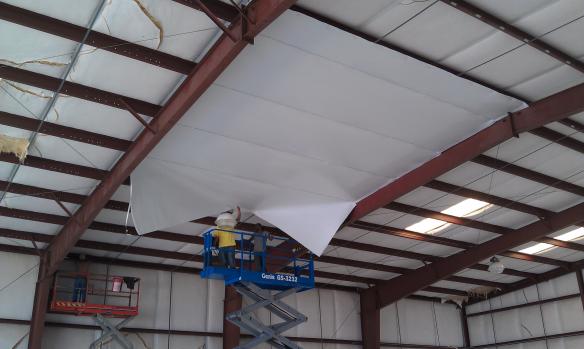 Metal building insulation repairs and replacements provided by Inco Steel Buildings based in North Carolina. By repairing, correcting, and replacing metal building insulation, Inco can permanently solve building insulation problems. The first step is to inspect the roof and walls of the building for damage, water infiltration, rusted metal panels, or openings that allow rain or foreign debris to enter and contaminate the building insulation.
STEP-1: Inspect the entire roof metal area, and wall metal area. In order to repair, replace or install insulation, any issues with the roof or walls must be corrected first. **Inco personnel must perform the inspection.
STEP-2:  Identify and fix roof and wall problems. Inco has a guaranteed Retrofit Solution for the Metal Roof and Metal Walls. **Inco personnel must perform all repairs.
STEP-3: Repair the insulation and liners in damaged areas, or throughout the entire building.
The Inco Insulation Retrofit System is designed for metal building ceilings and walls.  The system will restore metal building insulation and metal building interiors to like new condition. The system is a permanent solution that's used to repair, or replace torn insulation, falling insulation or water-soaked insulation. For areas lacking insulation, we install new insulation covered by an insulation liner.
Inco Mission: Build Good Buildings with Good People for a
Fair Price™
Excert: "As I started this process, I shopped all of the online advertisements and struggled to compare quality and cost against the various companies. In addition, none of these companies were local which raised concerns on overall support. I was happy to find you were local and I appreciated your help in the design process, your input on building functionality, and your overall support through the entire process."
"For the past 15 years, John Inman has worked with me and my team to renovate and restore commercial metal buildings and warehouses.."
"John Inman has been instrumental in the success of my various construction projects since 2014. He has my highest recommendation"
"John Inman has been my construction manager since 2016 - he manages time-sensitive and complex construction projects on time and within budget. ."
Inco Mission: Build Good Buildings with Good People for a
Fair Price™