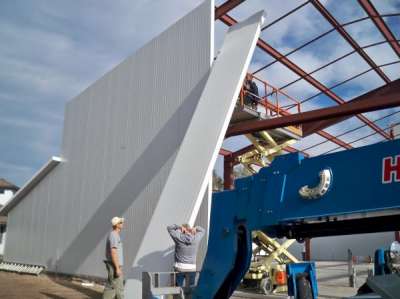 Metal Buildings Heat Reduction Systems
Customers save money and energy with our patented thermal process.
Inco Steel Buildings of Rolesville, North Carolina, designs and builds advanced metal buildings sealed with a proprietary non-foil insulating system that reduces: radiant heat gain, energy usage and extreme indoor temperatures
Metal Buildings Insulation Repair
Our insulation repair process for metal buildings is safe, clean, effective, and long-lasting, saving customers time, money, and energy.
You can significantly improve the comfort of your building's interior, reduce heat and cold, and enhance its appearance through the Inco Metal Building Insulation Repair System.
The work involves repairing or replacing ripped backings, torn or falling insulation, or water-soaked insulation. 
Formaldehyde-Free Metal Building Insulation
The formaldehyde-free metal building insulation Inco Steel Buildings, Inc. installs is Safe, Doesn't Emit Gases, and Doesn't Irritate the Eye. Formaldehyde-free will reduce heat transfer significantly.
Formaldehyde-free insulation is used by Inco and is provided by a variety of manufacturers, such as Johns Manville, Owen-Corning, Knauf, etc..